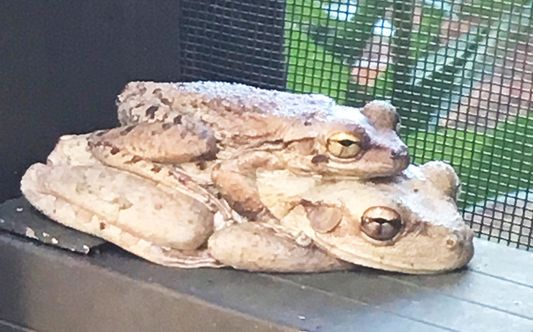 This morning I found these two frogs #tree #frog hanging out so comfortably. The frogs songs often lure me out to enjoy, and also see if they have any messages to share... #goodmorning #froggies ???#froghealing Here are the message from the Froggies.
Frog sings songs that calls the rain to cleanse and replenish mother earth and bring tears to cleanse our soul. We are born out of water ?in our mother's womb, experiencing the world of fluidity just like a frog. Maybe it's time to cleanse and replenish your spirit and bathe in the waters of frog medicine...take a long relaxing bath, swim, sit by the water, do some deep breathing or meditate.
Frog medicine refreshes and cleanses to clear away negative energy to restore harmony. If you're feeling waterlogged perhaps you're overloaded with too many emotions or overwhelming feelings. Take a break from your routine and check out some other lilly pads, explore new viewpoints, and activities. 
#animalcommunicator #frogmedicine #detox#refresh #reset #cleanse #serenity #naturelovers