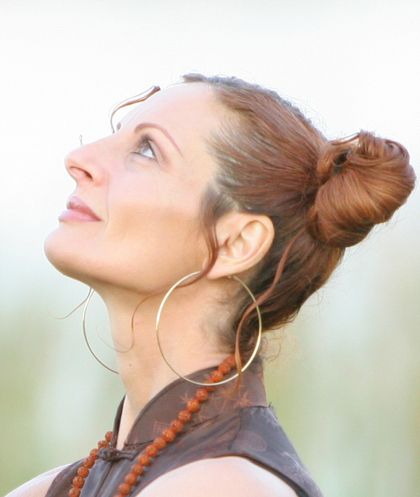 Gratitude
"Dearest Eluv, Oh how I loved listening to the beautiful meditation.  It is absolutely divine, the best I have ever heard.  I will recommend this to every single person I know. I love your beautiful voice and I love each affirmation, prayer and vision.  I feel Divine love and wisdom pouring through you and through this amazing CD.  I cannot wait to give this to my surgeon, oncologist and others at the hospital.  After listening to your words, I felt a deep sense of well-being and a profound sense of hope.  I need to see if you have this listed on Amazon yet as I would love to leave a comment (5 golden stars.) "-Nila Webster
Soulful and Profound

Eluv's healing music puts me immediately into a blissful state. I feel a release of what I don't need to hold on to anymore and an immediate recharge of what I need. Her beautiful energy and sounds have a healing effect that I resonate so strongly with. She is very gifted and talented. I highly recommend going to one of her healing music concerts. You deserve to treat yourself!~Sue P.
Sound Healing 


I have experienced Eluv's sound healing which was a delightfully restful and grounding two hours. Eluv's extraordinary vocal, instrumental and channeling skills are a rare gift which I would recommend to anyone seeking direction or simply a gentle release from the chaos of the everyday world.~ Diane M.
Angels...
Relaxing into Eluv's music as it cleared my mind, I could hear angels singing. Thank you for your many gifts and talents! ~Mary L.
A Graceful Transport Into My Inner Self
Eluv crafts an extraordinary environment for the inner journey. The music and the vibrations of the bowls invite you into a deeply satisfying and welcoming experience. There is skill at work here! I was gently led into a state of relaxation and calmness, a place where I was aware and yet gone! This is a remarkable gift to yourself, and a wonderful spiritual treat to give to someone else. I give Eluv my highest regard.~SteveR
Gratitude
Thank you for all the wonderful thoughts and prayers listen to your cd many times, my doctor was so surprised to see me after surgery at how well I had recovered. I feel your CD helped so much I am listening to it again tonight thank you.~Dave Hubbard
Healing Journey of Sound is Transformative
I have experienced many different healing modalities over the years and I have to say that Eluv's Healing Journey of Sound is transformative. Her crystal bowls and dulcet voice help you to relax and surrender to the experience...letting go of all the mind chatter and being in the present moment with the music gently pulsating through your cells and ridding the body of negative, old energy. It's a truly healing experience that I look forward to participating again and again.~ Jacy S.
Great way to end a stressful week!
I've been to 5 of Eluv's singing bowl events and I've had a different experience each time, all of them as lovely as she is. This is great for clearing my often cluttered mind. I have met several really cool people at these events. It's easy, relaxing and medicinal. I recommend it for anyone!
~ Heidi H